A large number of different games were featured in this year's E3 showcase but this year's E3 showcase also did bring one of Xbox One's biggest problems to light. Now, it is pretty much apparent that Microsoft has a problem with its image as a first-party publisher.
Microsoft's first-party tries cannot be called as in the best place ahead of E3, especially after a number of "Microsoft Studios" developers and heavy-budget projects were shut down. It has started to seem like the company's lineup has not been on the right track for some time, with only its largest pre-established franchises which are really working. During the past week, those concerns were solidified, through the titles previewed and their on-stage presentations.
Lack of 1st Party & Exclusive Titles
The Xbox One lineup seems quite weak in its present state. Though Xbox One buyers will be getting a few "launch exclusives" from external studios a little later this year, "Forza Motorsport 7" and "Crackdown 3" are the only two major first-party titles. Their number of games to come was very scarce, leaving the Xbox One buyers with little of a roadmap for projects that are expected to come in 2018.
It is hard to not condemn the way how Microsoft presented its first-party lineup, it proved to be an action that pushed its upcoming blockbusters to the sideline. It relied mainly on almost the third-party releases, it seemed as if the first-party releases were kind of being pushed aside with their short trailers and demos. A larger count of third-party games were provided with more screen time than first party releases, with Anthem, Assassin's Creed: Origins and Metro: Exodus each got the time for their own in-depth on-stage demos.
The Timing For A Release Couldn't Be Worse
The releasing time of the Xbox One X is a bit odd. Taking a look at the situation depending on the console cycle of the earlier generations, it somewhat looks likely that this one is coming to an end sooner rather than later. The fact that Microsoft is releasing a more powerful version of the Xbox One for $499 this year, then a few years later expecting them to pay some $399 more for the next edition of Xbox series seems quite odd. There could be two possibilities that Microsoft does not have any plans to release a new console soon, or either that Michael Pratcher was right and this is the last console generation.
Either it's the Xbox One X or the PlayStation 4 Pro, these both consoles spark up some very interesting talking points either way. Is this the future of consoles? Will we just continue to periodically upgrade them to assure that we are not being left behind? If sometime in future this becomes the case, then why have one of these instead of a PC? It has started to appear as if the longer consoles are around, the more PC like they are becoming. Well, this isn't completely a bad thing, but we're not sure either that if it is the right path for consoles to take.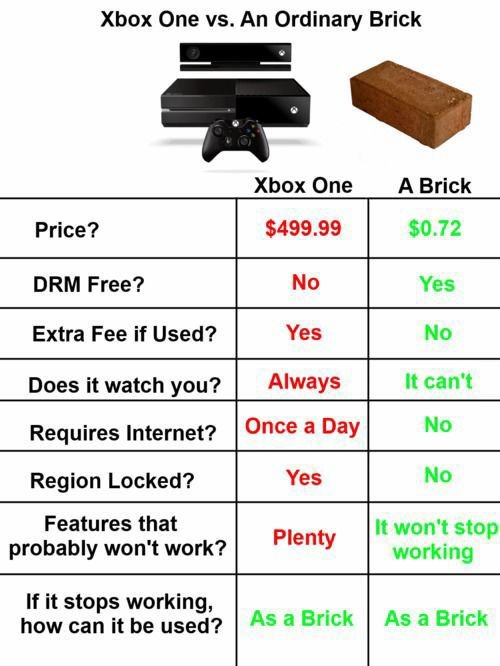 Mismanagement & Bad Decisions Were Abundant
Early in the lifecycle of the Xbox One Microsoft seemed to do pretty well with the 2014 Day-Glo Apocalypto game Sunset Overdrive, and it was also successful to manage some smart wins with Rise of the Tomb Raider's short-term exclusivity in 2015 (it became available on Windows and PS4 in 2016). Even though Microsoft's exclusive Halo and Gears of War franchises are the triumph cards, but they somehow lack the attraction that can be seen in Sony-only blockbusters.
Sony features Naughty Dog's utterly popular Uncharted 4, and also the splendid Last of Us rendition (as well as the upcoming sequel). These games aren't just utterly popular for this console generation—but they're considered as nothing less than a masterpiece. The same praises have been said of February's Horizon: Zero Dawn or the Bloodborne which was released last year.
Microsoft also lacks in the number of cool side gimmicks going for it as compared to Sony. The Xbox One S features a UHD Blu-ray player built in, so will Project Scorpio. The cool Blu-ray playback feature didn't prove to be helpful to the PS3, and now the feature is arguably even less necessary.
In an attempt to make the Xbox One more appealing for PC users Microsoft allowed some games to be played on PC too, like last year's Gears of War 4, which could be owned and played on both the PC and Xbox One. You are even given an option to stream games from console to PC, or vice versa, and when you take a look at the Game Center of Windows 10 you will come to find it very much similar to the Xbox One's dashboard. But all that failed to impress PS4 owners. What is there to impress them when they already have the option to stream their PS4 games to their computer?
If we look at it in a purely technical way, the Xbox One X has nothing that is wrong with it. It is no doubt more powerful than any other console around, it features a number of 4K-related features that even consoles like the PlayStation 4 Pro yet lack, and plus its very reasonable $500 price point makes it a very good deal.

Is The Xbox One X Really Doomed?
With the currently known facts about the Xbox One X, we are not sure that it will be able to survive in the market. Its price seems a bit too much for the casual gamer to afford one, especially when a much similar gaming experience can be had for a $100 less with the PlayStation 4 Pro.
Moreover, it does not seem likely that developers will be keen on making use of anything more powerful than the PlayStation 4 Pro right now. With a new console generation on its way most probably in a few years, we find it hard to believe that devs will choose to spend their money and time to improve their games more than the improvements that are already offered by the PlayStation 4 Pro.